Best 3D Led Acrylic Letter Signboard Company in Bangladesh
In the bustling heart of Dhaka, nestled along Kamal Soroni Road, lies the prestigious Kingshuk Participatory High School. With a history dating back decades, this educational institution has always sought excellence and innovation. Kingshuk Participatory High School revealed a gorgeous acrylic letter sign board on July 5th, 2023. As a remarkable addition to their campus. The significance of this striking installation, the materials utilized, and the design process. Its effects on the school and the surrounding neighborhood are all covered in length in this article. Acrylic 3D letter Sign Board for Kingshuk Participatory High School.
3d Acrylic Letter Sign board price
A well-designed school sign board is not merely a marker; it's an identity statement. Kingshuk Participatory High School recognized the importance of a distinguished sign board in creating a strong visual identity for their institution. The acrylic letter sign board serves as a beacon of recognition. Helping the school stand out amidst the bustling streets of Dhaka. Acrylic 3D letter Sign Board for Kingshuk Participatory High School.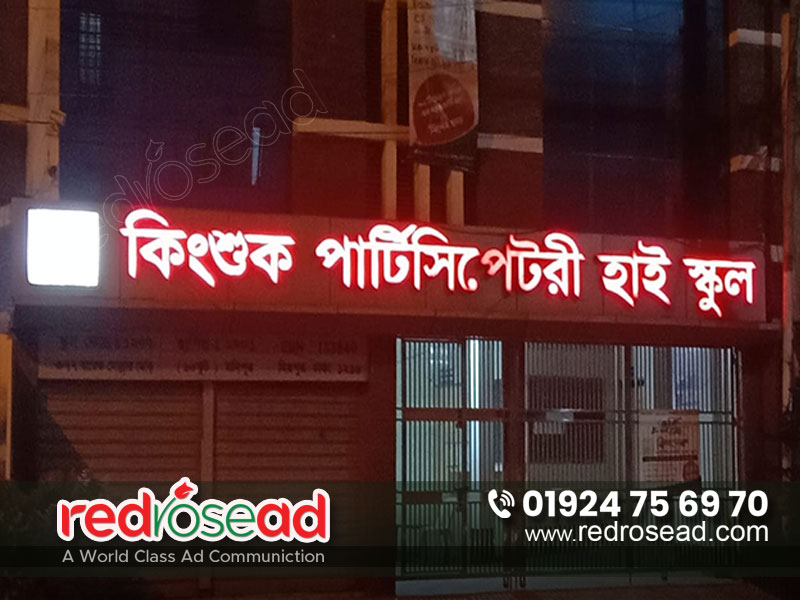 The choice of acrylic for the sign board is no coincidence. Acrylic offers a sleek, modern appearance that exudes elegance and professionalism. It's not just a sign; it's a work of art. The high-quality craftsmanship and attention to detail have transformed this sign board into a captivating visual masterpiece.
Best custom acrylic letters Gov School in Bangladesh
Main Gate Signboard Design 3D Acrylic Sign Board
The process of creating the acrylic letter sign board for Kingshuk Participatory High School was a collaborative effort between the school administration and a team of skilled designers. The aim was to create a sign that encapsulates the spirit and ethos of the institution.
The choice of acrylic was a result of careful consideration. Acrylic is known for its durability and ability to withstand the elements. It doesn't just look great; it's built to last, ensuring that the school's identity endures for years to come.
Best School Signboard 3d acrylic letter sign board price in Bangladesh | মিরপুর
Best Main gate Digital Sign Board price in Bangladesh
The installation of the acrylic letter sign board has generated a sense of pride within the Kingshuk Participatory High School community. Students, teachers, parents, and alumni all share in the excitement of this new addition to their beloved school.
led sign bd Neon Sign bd Acrylic Letter LED Sign 3D Sign Letter Arrow Sign Neon Sign Board
The sign board has already had a positive impact on the school's recognition within the Dhaka community. Passersby are now more aware of the school's presence, and prospective students and parents are drawn to its impressive façade.
Conclusion
In a world where first impressions matter, Kingshuk Participatory High School has made a powerful statement with its acrylic letter sign board. This stunning piece of craftsmanship enhances the school's visibility, encapsulates its identity, and instills a sense of pride within the community. As a symbol of excellence, the sign board stands tall, representing the commitment of Kingshuk Participatory High School to providing quality education in Dhaka.
Frequently Asked Questions (FAQs)
How does the acrylic sign board withstand different weather conditions? The acrylic used for the sign board is weather-resistant and can endure various weather conditions without fading or deteriorating.
Can other schools order similar acrylic sign boards? Yes, schools and institutions can collaborate with skilled designers to create custom acrylic sign boards that reflect their unique identity.
What are the maintenance requirements for acrylic sign boards? Acrylic sign boards are relatively low-maintenance. Regular cleaning with a mild detergent and water is usually sufficient to keep them looking pristine.
Is the acrylic sign board illuminated at night? Kingshuk Participatory High School's acrylic sign board can be illuminated if desired, adding a touch of elegance to the campus even after dark.
How can I learn more about Kingshuk Participatory High School and its programs? For detailed information about the school, its programs, and admission procedures, please visit the official school website.