A delightful restaurant called Waffle Bae. It has been winning the hearts and taste buds of foodies in the busy streets of Bangladesh. The path of Waffle Bae, the significance of acrylic LED brand signs. How Red Rose AD BD, the top advertising agency in Bangladesh. That was instrumental in creating their iconic signage all covered in this article. Waffle Bae's founder, Ms. Aisha Rahman, had a simple dream when she first thought of the company. She opened the restaurant since she has a passion for producing distinctive dining experiences and delicious sweets. Waffle Bae has been serving delicious waffles since it first opened. Its doors, making it a popular location for both locals and tourists.
One of the most important components of any company's branding strategy is an eye-catching logo sign. Particularly acrylic LED logo signs have become quite popular because of its adaptability. Toughness, and capacity to draw attention both during the day and at night. These signs not only improve a location's aesthetics, but they also make a strong first impression on customers, increasing brand awareness and memory.
Red Rose AD BD has established itself as a pioneer in Bangladesh's advertising sector. The company has built a solid reputation for providing excellent advertising solutions that are tailored to the specific requirements of each client thanks to its team of highly skilled designers and marketers. They stand out as the go-to agency for companies looking to establish an outstanding brand presence thanks to their dedication to excellence and creativity.
Red Rose AD BD eagerly accepted the challenge posed when Ms. Aisha Rahman asked the company to create an acrylic LED logo sign for Waffle Bae. They created a captivating logo that perfectly encapsulated the warmth and sweetness of Waffle Bae after grasping the essence of the business. The sign stood out even in the busiest streets because to the sophisticated and stylish LED illumination. Sign with LED Acrylic Logo in Bangladesh in 2023.Best Digital Signage Companies in Bangladesh.
Best Digital Signage Companies in Bangladesh
There were many advantages for Waffle Bae in selecting Red Rose AD BD for their advertising requirements. First off, the team's experience ensured a well-designed logo that accurately reflected the essence of the company. Second, the timely completion and use of premium materials ensured the logo sign's durability and ability to survive diverse weather situations. Thirdly, by strategically placing the sign, Waffle Bae was able to increase exposure and draw in more customers. Sign with LED Acrylic Logo in Bangladesh in 2023.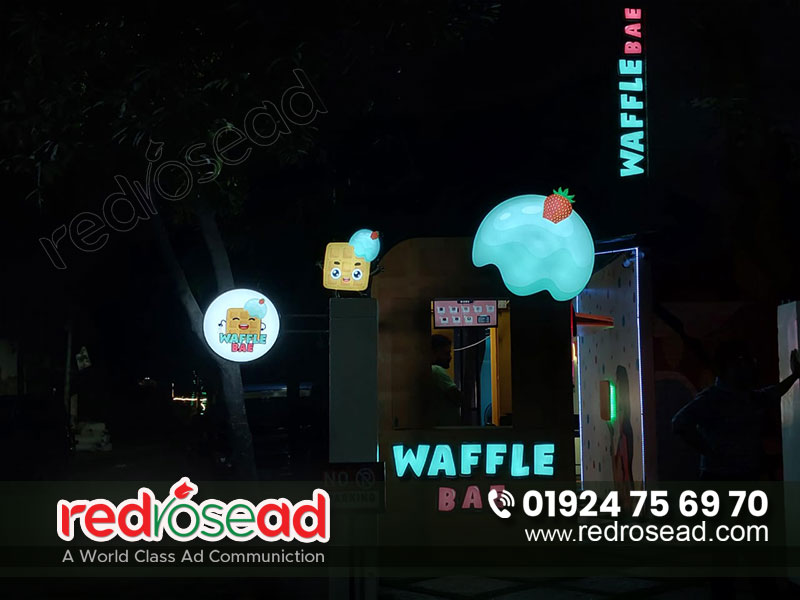 Leading Signage Company in Bangladesh
The success of Waffle Bae and its inspiring journey to success is a testament to the strength of imagination and hard work. The addition of the expertly designed acrylic LED logo sign, created by Red Rose AD BD, has improved the restaurant's brand recognition and presence. Waffle Bae's continued success acts as a source of motivation for budding chefs and restaurateurs. Sign with LED Acrylic Logo in Bangladesh in 2023. Best Digital Signage Companies in Bangladesh.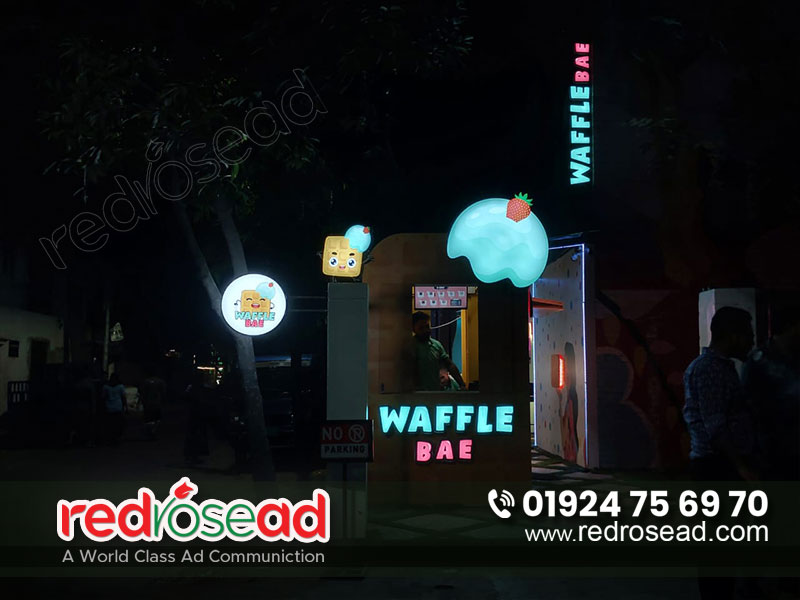 FAQs
What kinds of waffle flavors does Waffle Bae offer?
Yes, Waffle Bae takes pleasure in providing a wide range of delectable waffle flavors to suit a variety of tastes.
Is Red Rose AD BD willing to deal with clients from other countries?
Absolutely! Red Rose AD BD has experience working with multinational enterprises and invites clients from all around the world.
Is the acrylic LED logo sign for Waffle Bae visible at night?
Certainly! The acrylic LED brand sign has a stunning nighttime illumination that ensures visibility and appeal.
Best Digital Signage Companies in Bangladesh
Does Red Rose AD BD also offer advertising services to other sectors of the economy?
Yes, Red Rose AD BD offers customized advertising solutions to each client and serves a variety of industries.
How can I contact Red Rose AD BD about my advertising requirements?
Through their website or by contacting their customer care team, Red Rose AD BD can be contacted.