In the vibrant world of interior design, Frosted Glass Stickers have emerged as a stylish and functional choice. If you're in Bangladesh and considering these aesthetic additions, you're in the right place. This guide is your compass through the landscape of Frosted Glass Sticker prices in Bangladesh. Frosted glass stickers have become a trendy and functional addition to interior design in Bangladesh. These unique stickers provide a touch of sophistication and practicality, making them increasingly popular in homes and commercial spaces alike. Premium Frosted Glass Sticker Price in Bangladesh. Premium Frosted Glass Sticker Price in Bangladesh. Frosted Glass Sticker Price in Bangladesh: 500 ৳ to 600 ৳ in BDT In Dhaka, Bangladesh.
Our Facebook Page Name is RED ROSE AD
PREMIUM FROSTED GLASS STICKER PRICE IN BANGLADESH
FROSTED GLASS STICKER PRICE IN BANGLADESH
Understanding Frosted Glass Stickers
What are Frosted Glass Stickers?
Frosted glass stickers, also known as window films, are adhesive or non-adhesive materials applied to glass surfaces. They create a frosted or etched appearance, offering a stylish alternative to traditional clear glass.
The Significance in Interior Design
In the realm of interior design, frosted glass stickers serve as versatile elements. They not only add aesthetic appeal but also address practical concerns such as privacy and UV protection.
Exploring Types and Varieties
Adhesive Frosted Glass Stickers
Adhesive options provide a permanent solution, sticking securely to the glass surface. They are ideal for long-term applications and are often used in offices and homes.
Non-Adhesive Frosted Glass Films
Non-adhesive films are easy to apply and remove, making them a great choice for those who love to update their space frequently. They are available in various designs, offering flexibility in decor.
Sticker Branding Shop Outlet Office
Customized Frosted Glass Stickers
For a truly personalized touch, many suppliers offer customized frosted glass stickers. This option allows customers to choose specific patterns, designs, or even incorporate branding elements.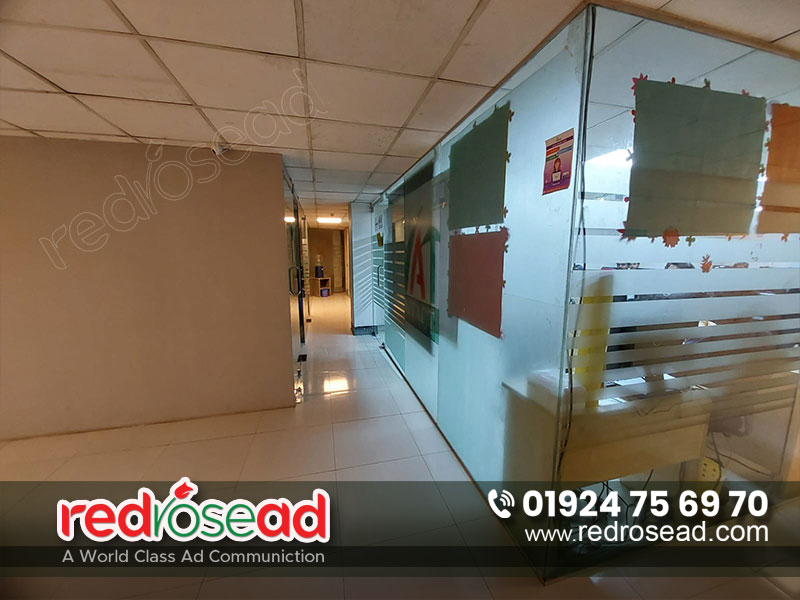 Benefits of Incorporating Frosted Glass Stickers
Enhanced Privacy
One of the primary reasons for the popularity of frosted glass stickers is their ability to enhance privacy without sacrificing natural light.
Aesthetic Appeal
Beyond functionality, these stickers add a decorative touch to windows and glass partitions, transforming ordinary spaces into elegant ones.
UV Protection
Frosted glass stickers act as a barrier against harmful UV rays, protecting interior furnishings and occupants from potential sun damage.
THAI GLASS PAPER PRICE IN BANGLADESH
Applications Across Different Spaces
Home Decor
In residences, frosted glass stickers find application in windows, glass doors, and even bathroom surfaces, offering both style and privacy.
Office Spaces
Businesses utilize frosted glass stickers for meeting room partitions and office windows, creating a professional and visually appealing environment.
Retail Environments
In retail settings, these stickers are employed for branding on storefronts or creating intriguing displays within the store.
Understanding Price Dynamics
OFFICE GLASS STICKER PRICE IN BANGLADESH
Factors Influencing Frosted Glass Sticker Prices
Several factors contribute to the variation in frosted glass sticker prices. The size, level of customization, brand reputation, and overall quality are key determinants.
Price Range in Bangladesh
The price range for frosted glass stickers in Bangladesh typically falls between 500 taka to 600 taka in BDT. This range is influenced by factors like size, design complexity, and the supplier's reputation.
Navigating the Market in Dhaka
FROSTED GLASS STICKER BEST PRICE IN BANGLADESH | MIRPUR
Local Suppliers
Dhaka boasts a variety of local suppliers offering frosted glass stickers. Customers can explore nearby stores to find options that suit their preferences.
Online Platforms
The convenience of online shopping extends to frosted glass stickers. Numerous e-commerce platforms provide a wide selection, allowing customers to compare prices and reviews effortlessly.
Installation and Maintenance Tips
DIY Installation
For those inclined towards a hands-on approach, many frosted glass stickers are designed for easy DIY installation. Clear instructions and video tutorials make the process accessible.
Professional Installation Services
Alternatively, individuals can opt for professional installation services for a flawless finish, especially when dealing with large or intricate designs.
Maintenance Guidelines
Proper maintenance ensures the longevity of frosted glass stickers. Gentle cleaning with non-abrasive solutions is recommended to preserve the sticker's appearance.
OFFICE GLASS CLEAR FROSTED STICKER PRINT PASTING PRICE IN MAZAR ROAD
Real Customer Experiences
Importance of Reviews
Before making a purchase, reading reviews from other customers provides valuable insights into the performance and durability of specific frosted glass stickers.
Common Feedback
Common feedback often highlights the ease of installation, the effectiveness of privacy enhancement, and the overall satisfaction with the product.
Compared with Alternative Solutions
PREMIUM FROSTED GLASS STICKER PRICE IN BANGLADESH
Frosted Glass Stickers vs. Curtains
While curtains offer a classic solution, frosted glass stickers provide a modern and sleek alternative without occupying physical space.
Traditional Window Films
Compared to traditional window films, frosted glass stickers often come with more design options, allowing for greater creativity in interior design.
Glass sticker price in bangladesh
Analyzing Trends and Future Prospects
Emerging Trends
Trends in frosted glass stickers include nature-inspired designs, geometric patterns, and personalized branding, reflecting a move towards individualized spaces.
Market Demand
The growing interest in interior design indicates a positive trajectory for the frosted glass sticker market in Bangladesh, with an increasing demand for innovative designs.
Conclusion
In conclusion, frosted glass stickers offer a blend of style and functionality that resonates with the evolving preferences of homeowners and businesses in Bangladesh. Their versatility, coupled with a reasonable price range, positions them as a go-to solution for enhancing interior spaces.
Frequently Asked Questions (FAQs)
Can frosted glass stickers be removed without damaging the glass surface?

Yes, most non-adhesive frosted glass stickers can be removed without leaving any residue or damaging the glass.

Do frosted glass stickers provide complete privacy?

While they enhance privacy, the level varies. Thicker designs offer more privacy compared to lighter patterns.

Are customized frosted glass stickers more expensive?

Customized options may be slightly pricier, but they allow for a unique and personalized touch.

Can frosted glass stickers be applied to curved surfaces?

Some frosted glass stickers are flexible enough to adhere to curved surfaces, but it's essential to check product specifications.

How often should frosted glass stickers be cleaned?

Regular cleaning is recommended, depending on the environmental factors. A gentle cleaning every few months is usually sufficient.
Frosted Paper Glass Door Sticker & Pasting in Mazar Road
DOOR STICKER. FROSTED STICKER. GLASS DOOR STICKER. SIGN BOARD. LED SIGN BOARD. LED SIGN. CAR STICKER. LED DISPLAY. GLASS STICKER PRINTING. STICKER PRINTING. OUTDOOR LED SIGN. LED DISPLAY PANEL. SHOP SIGN BOARD. GLASS DOOR STICKER PRINTING. ACRYLIC SIGN BOARD. BEST OUTDOOR LED SIGN BOARD. OUTDOOR SIGN BOARD. OUTDOOR STICKER. LED BOARD. DIGITAL DISPLAY. DIGITAL SIGN BOARD. LED DISPLAY SCREEN. STICKER MAKING. ACRYLIC SIGN. LED DISPLAY BOARD. OUTDOOR LED DISPLAY BOARD. LED DISPLAY SIGN BOARD. OUTDOOR ADVERTISING LED DISPLAY SCREEN.
Frosted Glass Sticker Price in Bangladesh
OUTDOOR LED DISPLAY. ADVERTISING LED DISPLAY SCREEN. LED SCREEN. LED DISPLAY SIGN. OUTDOOR LED DISPLAY SCREEN. OUTDOOR LED. STICKER SHEET PRINTING. OUTDOOR LED PANEL DISPLAY. NAME PLATE. OUTDOOR LED PANEL. LED LIGHT SIGN. DISPLAY SIGN. GLASS DOOR SIGN. SHOP SIGN. PVC BOARD. LED DISPLAY SCREEN FOR ADVERTISING OUTDOOR. OUTDOOR SIGN. DIGITAL SIGN. INDOOR LED DISPLAY SCREEN. SIGN PRINTING. SIGNBOARD PRINTING. OUTDOOR DISPLAY. NEON LIGHT SIGNS. LETTER SIGN BOARD.
50 Frosted Office Glass Sticker Price in Bangladesh
LED PANEL SCREEN. NEON LIGHT. GLASS SIGN. OUTDOOR DIGITAL DISPLAY BOARD. OUTDOOR LED VIDEO WALL. BANNER PRINTING. OUTDOOR DISPLAY SCREEN. NEON LED. LED BANNER. SIGN MAKING. LIGHT SIGN BOARD. STAND SIGN. NAME PLATE DESIGN. STICKER PRINTING FOR GLASS DOOR. DIGITAL SIGN BOARD OUTDOOR. LED DISPLAY SCREEN FOR ADVERTISING INDOOR. NEON SIGNAGE. FROSTED WINDOW STICKER. NEON SIGN BOARD. LED SIGN BOARD FOR SHOP. LED VIDEO WALL. LABELS PRINTING. PVC SIGN BOARD. POP UP STAND BANNER. STICKER BANNER PRINTING. ACRYLIC NAME PLATE. LED ACRYLIC SIGN. STICKER BRANDING. CAR STICKER PRINTING. LED VIDEO WALL PANELS. POP UP STAND. SIGN DISPLAY. GLASS STICKER DESIGN. STICKER SIGN. NAME PLATE FOR DOOR. CAR DECALS. DOOR SIGN. OUTDOOR DIGITAL SIGN. DIGITAL DISPLAY BOARD. FROSTED ACRYLIC SIGN. DISPLAY OUTDOOR. FROSTED GLASS SIGN. NAME BOARD.
Frosted Glass Sticker Best Price in Bangladesh
LED DISPLAY MANUFACTURER. OUTDOOR LED SCREEN. GLASS DOOR CLINGS. NEON LED SIGN. DIGITAL DISPLAY SCREEN FOR ADVERTISING. INDOOR LED DISPLAY. NEON LIGHT NAME SIGN. STICKER BOARD. BEST SIGN. OUTDOOR DIGITAL SIGN BOARD. DIGITAL DISPLAY SCREEN. INDOOR ADVERTISING LED DISPLAY SCREEN. GLASS DOOR STICKER DESIGN. LED DISPLAY PANEL OUTDOOR. LED VIDEO SCREEN. NEON LIGHT NAME PLATE. ADVERTISING DISPLAY SCREEN. OUTDOOR DISPLAY BOARD. LED LIGHT NAME SIGN. BILLBOARD SIGN. SIGN STICKER PRINTING. LED GLASS. STICKER BANNER. LIGHT UP SIGN. DOOR STICKER PRINTING. WINDOW STICKER. NEON LIGHT SIGN BOARD. LED SCREEN DISPLAY. ADVERTISING SCREEN. SIGN BOARD PRINTING. LED SCREEN SIGN BOARD.
Frosted Glass Sticker Best Price in Bangladesh | Mirpur
LETTER SIGN. DISPLAY SIGN BOARD. STAND BANNER. ACRYLIC LOGO. ADVERTISING BOARD. PAPER BANNER PRINTING. LED LIGHT SIGN BOARD. CAR WINDOW STICKER. LED VIDEO DISPLAY BOARD. DIGITAL SIGN BOARD FOR SHOP. SIGN PAPER. LED NEON LIGHT. FROSTED GLASS STICKER DESIGN. OUTDOOR LED ADVERTISING SCREEN. ADVERTISING BILLBOARD.
NEON LIGHT BOARD. LED LETTER BOARD. OUTDOOR LED BOARD. DECALS STICKERS. NEON LIGHT UP SIGN. LED DISPLAY BOARD FOR ADVERTISING. OUTDOOR STICKER PRINTING. ROUND SIGN. STAND SIGN BOARD. DIGITAL SIGN DISPLAY. LED SIGNBOARD. LED LIGHT BOARD. DIGITAL LED SIGN BOARD. WINDOW STICKER PRINTING. OFFICE SIGN BOARD. SIGN LIGHTING. LED PANEL SIGN BOARD. SIGN PANEL. STICKER FROSTED. LED ADVERTISING SCREEN. FROSTED SIGN. A SIGN BOARD. LED LETTER SIGN. ADVERTISING SIGN. CUT OUT STICKER. INDOOR LED VIDEO WALL. LED VIDEO PANEL. LED PANEL SCREEN OUTDOOR. OUTDOOR LED DISPLAY PANEL. LED PANEL SCREEN INDOOR. LED SCREEN PANEL PRICE. ACRYLIC LED SIGN BOARD. CAR DOOR STICKER. OUTDOOR LED DISPLAY SCREEN PRICE.
OFFICE GLASS STICKER DESIGN IN BANGLADESH
LED DISPLAY PANEL FOR ADVERTISING. VIDEO PANEL. LED VIDEO WALL DISPLAY. STICKER ADVERTISING. LED MODULE LIGHT. SCREEN LED. LED MOVING SIGN BOARD. DIGITAL DISPLAY BOARD FOR ADVERTISING. LED SCREEN PANEL OUTDOOR. GLASS DOOR LOGO STICKER. OUTDOOR BRANDING. INDOOR DIGITAL DISPLAY BOARD. STICKER IN GLASS DOOR. LED DISPLAY MODULE. INDOOR LED PANEL DISPLAY. SIGN AND DISPLAY. CREATE LED SIGN. LED VIDEO WALL SCREEN. CUT OUT STICKER PRINTING. SHOP LED SIGN BOARD. OUTDOOR LED BILLBOARDS. NAME LIGHT UP SIGN. LED OUTDOOR DISPLAY SCREEN. BANNER BOARD. STICKER FROSTED GLASS.