In the world of advertising and signage, one company stands out for its exceptional craftsmanship and innovative designs – Red Rose Ad BD. On July 27, 2023, this renowned company produced a captivating golden stainless steel letter sign for the esteemed Baraka Farmyard. Priced at 12,000 Bangladeshi Takas, this masterpiece showcased the perfect blend of artistry and functionality. This article delves into the brilliance of Red Rose Ad BD, its top-notch products, and its contribution to the advertising landscape in Bangladesh. SS Golden and Silver Color Letter Signage BD.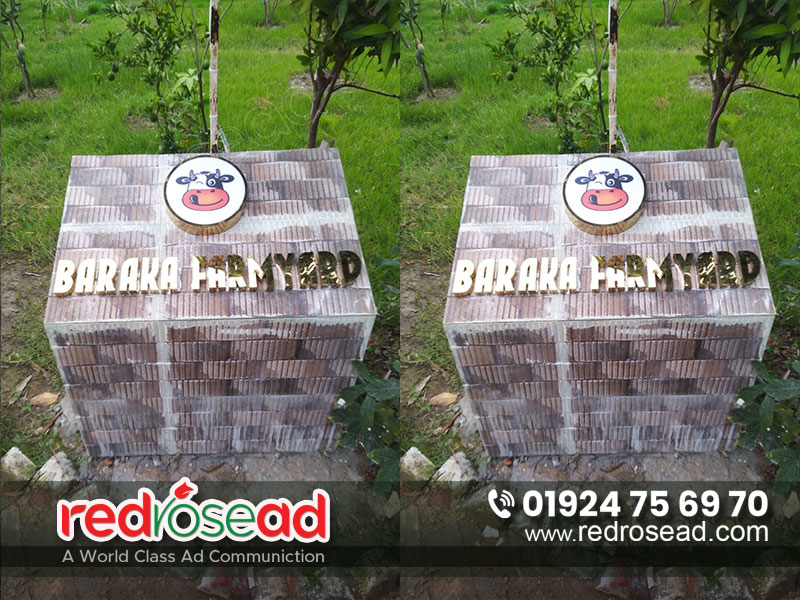 A Golden Creation: Red Rose Ad BD's Stainless Steel Letter Sign. Unraveling Baraka Farmyard's Vision. Baraka Farmyard, an exceptional destination that embraces nature's beauty and rustic charm, sought a captivating signage piece to welcome its visitors warmly. The vision was to create an ambiance that reflected both elegance and uniqueness, leaving an everlasting impression on guests.
When it comes to advertising firms in Bangladesh, Red Rose Ad BD proudly tops the list. With a track record of brilliance and a team of creative minds, they consistently deliver beyond expectations. Their dedication to perfection and customer satisfaction has earned them an enviable reputation in the industry. SS Golden and Silver Color Letter Signage BD.
Ambush Letter LED Signage
The Ambush Letter LED Signage is a cutting-edge marvel that combines modern LED technology with classic lettering. It offers a striking display both during the day and at night, making it an ideal choice for businesses looking for attention-grabbing signage. SS Golden and Silver Color Letter Signage BD.
Acrylic 3D Letter Indoor Signage
For businesses seeking indoor signage solutions that exude sophistication and professionalism, the Acrylic 3D Letter Indoor Signage is an excellent option. Its three-dimensional effect adds depth and character to any interior space. SS Golden and Silver Color Letter Signage BD.
With the Acrylic 3D Letter Outdoor Signage, businesses can make a bold statement even in the face of diverse weather conditions. This weather-resistant signage option ensures that the message endures, rain or shine.
The SS 3D Letter Signage exemplifies durability and style. Crafted from stainless steel, this signage option is designed to withstand the test of time, making it a wise investment for businesses looking for longevity.
Bata Model Letter Signage
The Bata Model Letter Signage offers a touch of nostalgia and elegance. Inspired by vintage designs, this signage option carries an air of timeless charm, making it a preferred choice for businesses seeking a classic touch.
Get in Touch with Red Rose Ad BD
To explore the diverse range of signage products offered by Red Rose Ad BD, you can contact them at +8801924-756970. Their team of experts will be delighted to assist you in finding the perfect signage solution that aligns with your brand identity and vision.
In the competitive world of advertising, standing out and leaving a lasting impact is essential for any business. Red Rose Ad BD understands this well and continues to deliver extraordinary signage solutions that mesmerize and captivate. Their golden stainless steel letter sign crafted for Baraka Farmyard is a testament to their unwavering commitment to excellence. With an array of top-notch products, Red Rose Ad BD remains at the forefront of the signage industry in Bangladesh.
FAQs
Are Red Rose Ad BD's products customizable?
Absolutely! Red Rose Ad BD takes pride in offering customized solutions to suit your specific requirements.
Does Red Rose Ad BD cater to businesses outside Bangladesh?
Yes, Red Rose Ad BD has a global presence and caters to businesses worldwide.
What sets Red Rose Ad BD apart from other advertising firms?
Red Rose Ad BD stands out due to its exceptional craftsmanship, innovation, and customer-centric approach.
Can I see samples of their previous work?
Yes, Red Rose Ad BD has an impressive portfolio showcasing their past projects.
How long does it take to complete a signage project?
The project timeline may vary depending on the complexity and scope, but Red Rose Ad BD ensures timely delivery without compromising quality.