In the bustling city of Khulna, Bangladesh, lies the vibrant Dzine Clothing Zone, a fashion haven that caters to the style-conscious. To enhance its brand visibility and make a lasting impression, Dzine Clothing Zone has invested in a striking acrylic LED letter sign. This captivating signage. Standing at an impressive height of 4 feet and spanning 40 feet in length. It will likely become a well-known landmark in the city. Behind this remarkable advertising masterpiece is none other than the renowned Red Ad BD SignAge Company, known for its exceptional craftsmanship and innovative designs. In this article, we will delve into the art of acrylic LED letter sign-making. The prowess of Red Ad BD SignAge Company. How the Dzine Clothing Zone's position in Khulna City is about to change as a result of this magnificent sign.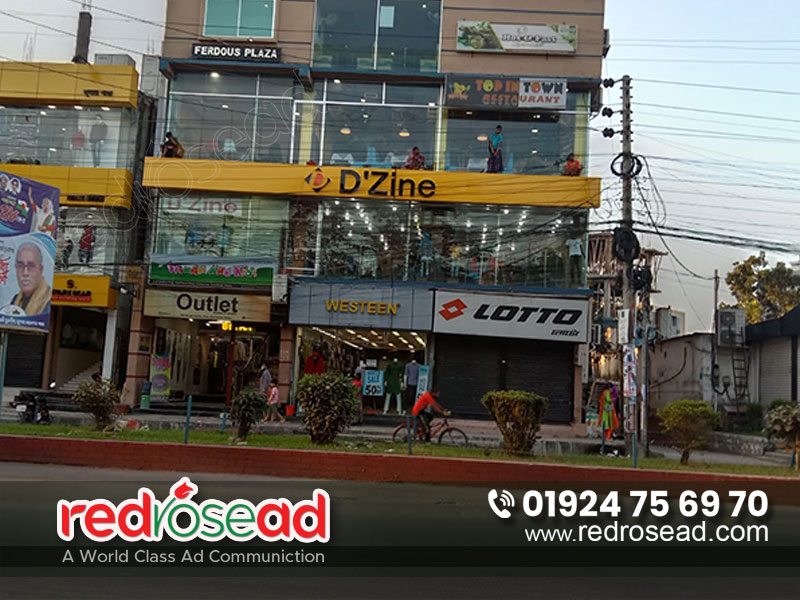 Acrylic LED letter signs are an extraordinary way to captivate the attention of passersby and potential customers. Their alluring luminosity and customizable design allow businesses to stand out from the competition and make a strong brand statement. In the case of Dzine Clothing Zone, this signage will undoubtedly become a landmark, guiding both loyal and new customers to their doorstep.
The Marvelous Making Process
Creating an acrylic LED letter sign of this magnitude requires meticulous planning and execution. Red Ad BD SignAge Company combines cutting-edge technology with skilled craftsmanship to bring this sign to life. From conception to installation, every step is meticulously planned to guarantee. That the finished product meets or exceeds expectations.
2.1 Designing the Vision
The process begins with brainstorming and sketching potential designs. Collaborating with Dzine Clothing Zone, Red Ad BD creates several prototypes to visualize the sign's appearance in the bustling streets of Khulna. The goal is to harmonize the sign with the brand's identity while making it an awe-inspiring sight for anyone who lays eyes on it.
2.2 Precision Engineering
Once the design is approved, the engineering marvel begins. High-quality acrylic sheets are laser-cut to perfection, forming the base structure for each letter. The letters are then carefully polished, giving them a crystal-clear finish that amplifies the LED's luminosity. Best Acrylic LED Letter sign for Advertising Company 2023. Acrylic Led Lighting Letters Signage.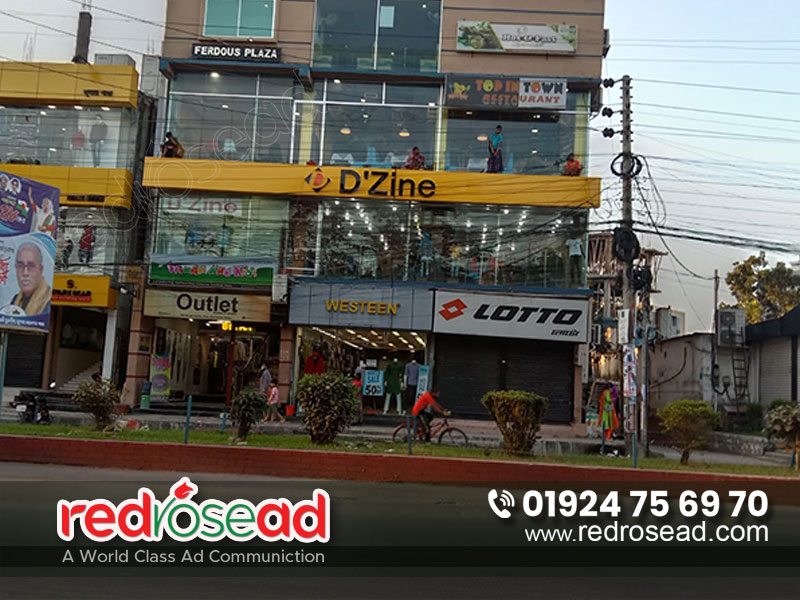 Acrylic Letter With LED Light Signs, Signage Maker in Dhaka
2.3 Illuminating with LEDs
The magic of the sign lies in its illumination. Red Ad BD SignAge Company utilizes state-of-the-art LED technology to ensure energy efficiency and longevity. The LED modules are strategically placed within each letter, casting a radiant glow that draws attention day and night.
2.4 Testing and Quality Assurance
Before the grand installation, each letter undergoes rigorous testing to guarantee flawless functionality. Quality assurance is a top priority, and any imperfections are swiftly rectified to maintain the company's reputation for excellence. Acrylic Led Lighting Letters Signage.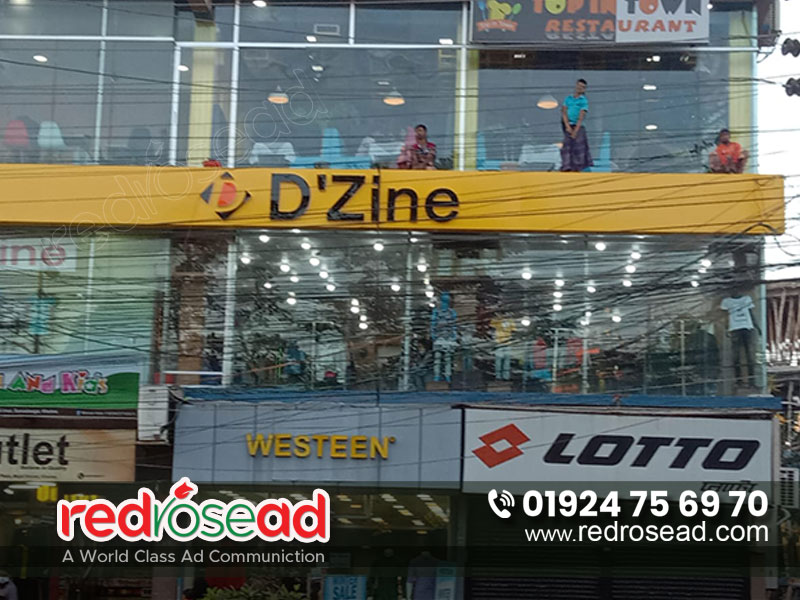 Acrylic Letter LED Lighting Signage with Acp Board
Red Ad BD SignAge Company – The Master Craftsmen
Red Ad BD SignAge Company has carved a niche for itself in the realm of advertising agencies in Bangladesh. With years of experience and a dedicated team of artists and technicians, the company has delivered numerous successful projects throughout the country. Best Acrylic LED Letter sign for Advertising Company 2023.
Best LED Advertising Agency in Dhaka Bangladesh
3.1 The Creative Minds
Behind every masterpiece is a team of creative minds that envision and refine ideas. Red Ad BD boasts a pool of talented graphic designers and artists who have an innate ability to transform concepts into captivating visuals.
3.2 The Skilled Technicians
Precision engineers and talented technicians work together to bring new designs to reality. Every project Red Ad BD takes on is completed successfully thanks to their attention to detail and dedication to perfection.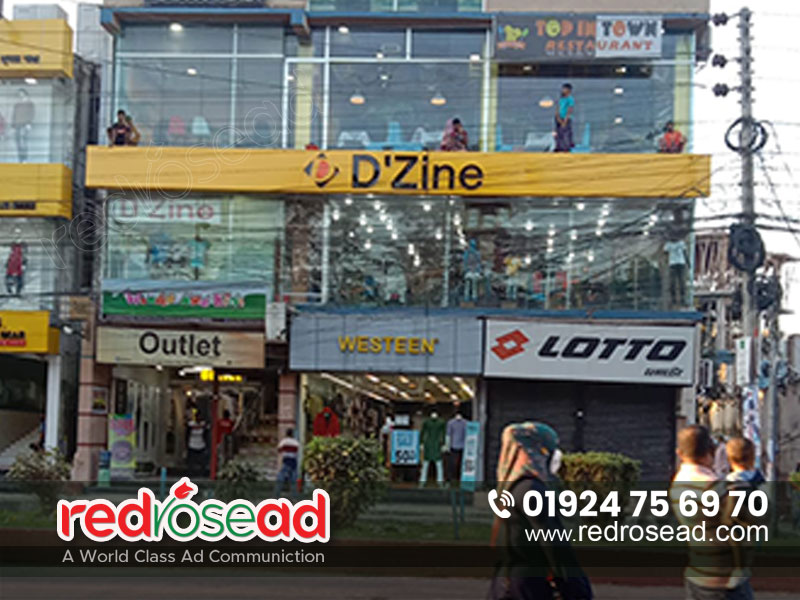 3D Acrylic Letter Signs
3.3 Customer-Centric Approach
One of the keys to Red Ad BD's success is its customer-centric approach. They take the time to understand their client's vision, aligning their efforts to meet and exceed expectations. Best Acrylic LED Letter sign for Advertising Company 2023.
Transforming Dzine Clothing Zone's Presence
As the acrylic LED letter sign takes its place outside Dzine Clothing Zone. There will undoubtedly have a significant impact on the store's visibility. The brilliant glow will draw attention from onlookers. Word-of-mouth will spread like wildfire, further elevating the brand's reputation.
Conclusion
Acrylic LED letter signs have redefined the advertising landscape, and Dzine Clothing Zone's investment in this grand signage marks a turning point for their business. With Red Ad BD SignAge Company's expert craftsmanship. The sign is meant to become a recognizable representation of the fashion scene in Khulna City. Best Acrylic LED Letter sign for Advertising Company 2023.
5 Unique FAQs
How long will the acrylic LED letter sign last?
The LED modules used in the sign are designed for long-lasting performance. With proper maintenance, the sign can remain vibrant for many years.
Can Red Ad BD SignAge Company create custom designs for other businesses?
Absolutely! Red Ad BD specializes in creating bespoke signage solutions tailored to each client's unique brand identity.
Outdoor Acrylic LED Letters Advertising Sign
Is acrylic a durable material for outdoor signs?
Yes, acrylic is highly durable and weather-resistant, making it an excellent choice for outdoor signage.
How does LED technology save energy?
LEDs consume significantly less energy compared to traditional lighting options, reducing both electricity consumption and environmental impact.
Can other businesses in Khulna City get similar signage from Red Ad BD?
Yes, Red Ad BD serves various businesses across Khulna City and beyond, offering top-notch signage solutions to enhance their presence.