In today's fast-paced world, advertising plays a pivotal role in promoting businesses and creating brand awareness. Among the myriad of advertising options available, profile lighting signboards stand out as a powerful and visually appealing means of catching people's attention. In this article, we will explore the wonders of profile lighting signboards, specifically focusing on Pana Lighting Signboards made by the renowned company Red Rose Ad BD, which is acclaimed as the best advertising company in Bangladesh.
In the bustling world of marketing and advertising, grabbing the attention of potential customers is a challenging task. Signboards, with their strategic placement and eye-catching designs, have proven to be an effective means of communicating with the masses. Among the various types of signboards, profile-lighting signboards are becoming increasingly popular due to their ability to create a lasting impression on viewers.
Leading Advertising Company in Bangladesh
When it comes to top-notch advertising solutions in Bangladesh, Red Rose Ad BD emerges as a leading player. With years of experience and a team of skilled professionals, they have carved a niche for themselves in the advertising industry. Their commitment to excellence and customer satisfaction has earned them a stellar reputation. Aluminum Profile Box Lighting Sign Board.
3. The Range of Signage Offered by Red Rose Ad BD
Red Rose Ad BD boasts an extensive range of signage options, catering to diverse advertising needs. Let's delve into some of their remarkable offerings:
Indoor signage made of acrylic with a stunning 3D effect, adding depth and dimension to the advertising message.
Utilizing Aluminum Composite Panels (ACP) or metal, these signages offer a modern and professional appearance.
Similar to indoor signages, but specifically designed to withstand outdoor weather conditions while retaining visual appeal.Ambush Letter LED Signage
LED-illuminated letters that create a captivating glow, perfect for creating a bold impact during the night.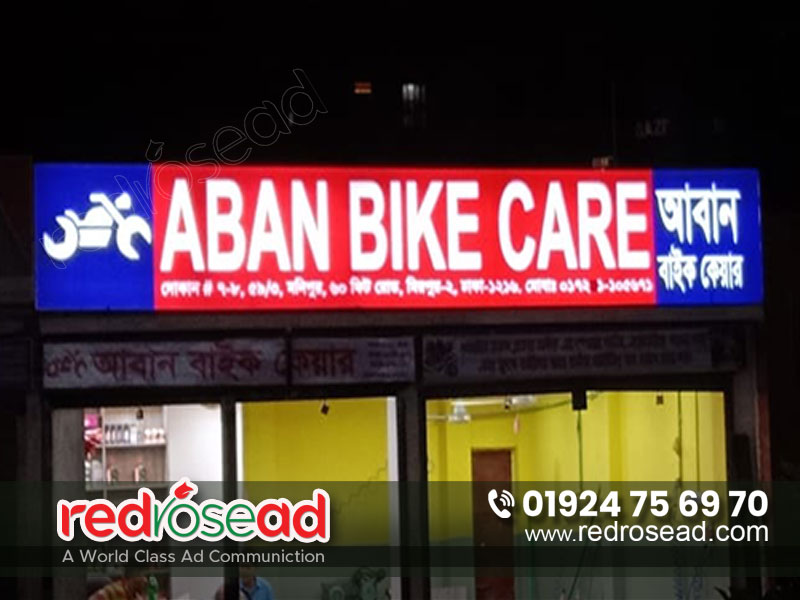 Signboards with backlit and sidelit features, available in various finishes like golden, mirror, hairline, and mat SS. Aluminum Profile Box Lighting Sign Board.
Using backlighting to illuminate the advertising content, making it stand out in low-light environments.
Signages designed in the shape of batas, a traditional footwear, providing a unique visual element.
Circular signboards, suitable for showcasing logos and brand symbols in an attractive manner.
Prominent and well-lit signboards that capture attention, especially in high-traffic areas.
Elegant frosted stickers that offer privacy and aesthetics to glass surfaces. Aluminum Profile Box Lighting Sign Board
Sophisticated nameplates crafted from glass or acrylic, perfect for professional spaces.
Signboards with golden mirror finish for a touch of luxury and elegance.
Backlit signages ideal for indoor environments, creating a warm and inviting ambiance.
Metal letters with painted finishes, providing a unique and artistic touch.
Signages with a glossy stainless-steel finish and 3D effect, exuding modernity and style.
Vibrant and retro-style neon signages, evoking nostalgia and catching attention.
Large-scale signages for walls and fences, transforming spaces into advertising canvases.
Tall and visible signages to guide people and enhance wayfinding.
Stainless steel or brass letter signages with hairline finishes for a sophisticated look.
Vertical signages and stand boards for compact yet impactful displays.
Rustic wooden signages and custom cutouts for a natural and artistic touch.
Innovative 3D designs and exclusive branding services to create a distinct identity.
Aluminum composite boards for advertising panels with durability and versatility.
Highly visible billboards available for rent, ensuring maximum exposure.
Car stickers for branding and creative car decorations that catch eyes on the road.
Eye-catching stickers for branding shops, outlets, and offices effectively.
Sturdy alcovon sheets and boards for various advertising needs.
Custom calendar designs for year-round brand exposure.
Dynamic LED moving displays for captivating visual content.
Illuminated signboards that ensure visibility even during the night.
Versatile LED modules for creative and engaging signage.
Profile lighting signboards that exude brilliance and impact.
Lightweight and weather-resistant PVC signboards for outdoor displays.
Signages for road branding and effective outdoor advertising.
Profile lighting signboards offer a plethora of advantages when it comes to advertising. Some of the key benefits include:
High Visibility: The illuminated nature of profile lighting signboards ensures they are visible even in low-light conditions, making them effective round the clock.
Memorable: The combination of striking designs and lighting makes profile lighting signboards memorable, leaving a lasting impression on viewers.
Brand Reinforcement: By prominently displaying logos and brand messages, these signboards reinforce brand identity and recall.
Energy-Efficient: LED technology used in the signboards is energy-efficient, reducing operational costs in the long run.
Customizable: Profile lighting signboards offer immense customization possibilities, allowing businesses to convey their unique message effectively.
The creation of profile lighting signboards involves a meticulous process. Skilled artisans and modern technology come together to craft these visual marvels. The process includes:
Design Concept: Understanding the client's advertising goals and creating a concept that aligns with their brand image.
Material Selection: Choosing the appropriate materials, whether it's acrylic, metal, stainless steel, or others, depending on the design requirements.
Fabrication: Meticulously cutting and shaping the materials to form the desired signage structure.
Lighting Integration: Skillfully integrating LED lighting systems to achieve the perfect illumination effect.
Quality Check: Thoroughly inspecting the signboard for quality, durability, and visual appeal.
Installation: Carefully installing the profile lighting signboard at the designated location for maximum impact.
Profile Lighting Signboards
Profile lighting signboards are versatile advertising tools that find application in various settings. Some impactful uses include:
Retail Stores and Showrooms
Profile lighting signboards create an enticing storefront, attracting potential customers and encouraging foot traffic.
Restaurants and Cafes
Illuminated signages enhance the ambiance of dining spaces, making them visually appealing to patrons.
Corporate Offices and Business Centers
Sophisticated profile lighting signboards convey professionalism and elevate the corporate image.
Events and Exhibitions
Profile lighting signboards help exhibitors stand out in crowded events and exhibitions.
Wayfinding and Directional Signage
Brightly lit signages guide visitors efficiently in large facilities or complexes.
Customization and Branding Opportunities
One of the most significant advantages of profile lighting signboards is the ability to customize them according to specific branding requirements. Red Rose Ad BD offers a dedicated team that works closely with clients to understand their vision and transform it into reality. From choosing the right materials to creating stunning designs, customization is the heart of their services.
Conclusion
Profile lighting signboards have emerged as an innovative and impactful advertising solution in today's competitive world. Red Rose Ad BD, with its expertise and creative prowess, provides exceptional profile lighting signboards that captivate viewers and leave a lasting impression. Investing in these luminous signages is a step towards elevating brand visibility and making a powerful statement in the advertising arena.
FAQs
1. What sets profile lighting signboards apart from other advertising options?
Profile lighting signboards stand out due to their illuminated nature, making them highly visible and memorable compared to traditional non-lit signages.
2. Can profile lighting signboards be used both indoors and outdoors?
Yes, profile lighting signboards are designed to withstand outdoor conditions and are equally effective for indoor applications.
3. How long do profile lighting signboards last?
With the use of energy-efficient LED technology, profile lighting signboards can last for several years with minimal maintenance.
4. Can I customize the design of a profile lighting signboard?
Absolutely! Red Rose Ad BD offers comprehensive customization options, allowing clients to tailor the design, materials, and size of their profile lighting signboard.
5. Is Red Rose Ad BD's Pana Lighting Signboard available for international orders?
Yes, Red Rose Ad BD caters to both domestic and international clients, providing shipping and installation services worldwide.