In the modern world of advertising, signage has become an essential aspect of promoting businesses and brands. Among the various types of signage, Aluminum Profile Box Lighting Sign Boards have gained significant popularity due to their striking appearance and versatility. In this article, we will explore the process of making Aluminum Profile Box Lighting Sign Boards and focus on Red Rose AD Signage, one of the best signage companies in Bangladesh. Digital Pana Flex Aluminum Profile Box Lighting Sign.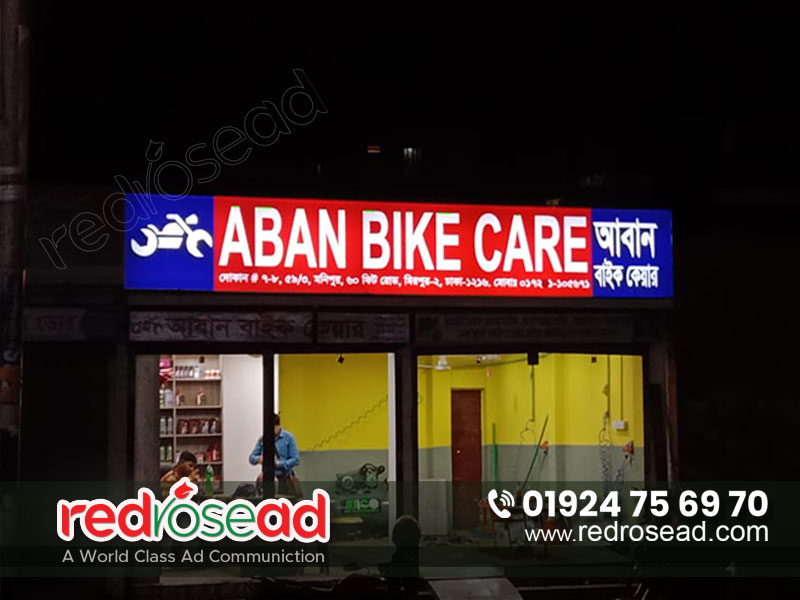 Aluminum Profile Box Lighting Sign Board
Lights in an aluminum profile box. A specific method called "Sign Board Making" is used to make illuminated signboards. That are noticeable both during the day and at night. Aluminum profiles are used in the construction of these signboards to offer a robust structure. Support the lighting fixtures inside.
Aluminum Profile Box Lighting Sign Boards offer several advantages over traditional non-illuminated signs. Their luminous quality ensures visibility even in low-light conditions, making them highly effective for businesses operating during the evenings or nights. The attractive glow of these signs captures the attention of passersby, thus enhancing brand recognition and increasing foot traffic to the advertised business.
Red Rose AD Signage Advertising Company in Bangladesh
Red Rose AD Signage is a leading advertising company based in Bangladesh, renowned for its high-quality signage solutions. With years of experience and a team of skilled professionals, they have successfully executed numerous projects, gaining the trust of clients across various industries.
There are several reasons why Red Rose AD Signage stands out as the best signage company in Bangladesh:
Expertise: The company boasts a team of talented designers, fabricators, and installers who possess extensive knowledge and expertise in creating captivating signage solutions.
Innovative Designs: Red Rose AD Signage takes pride in its ability to produce unique and innovative signboard designs that align perfectly with their clients' branding and vision.
Premium Materials: The company uses top-quality materials, including aluminum profiles, LED lighting, and weather-resistant coatings, ensuring the longevity and durability of their products.
Timely Execution: Red Rose AD Signage adheres to strict timelines.
Customer Satisfaction: The company prioritizes customer satisfaction and works closely with clients to understand their requirements and deliver results that exceed expectations.
Best Aluminum Profile Box Lighting Sign Boards
The process of making Aluminum Profile Box Lighting Sign Boards involves several steps:
Step 1: Design and Conceptualization
The journey begins with a thorough understanding of the client's branding and advertising objectives. The design team at Red Rose AD Signage collaborates with the client to create visually appealing concepts that align with their business identity.
Step 2: Material Selection
Once the design is approved. The team carefully selects the appropriate materials. Aluminum profiles are chosen for their lightweight nature, durability, and ease of fabrication.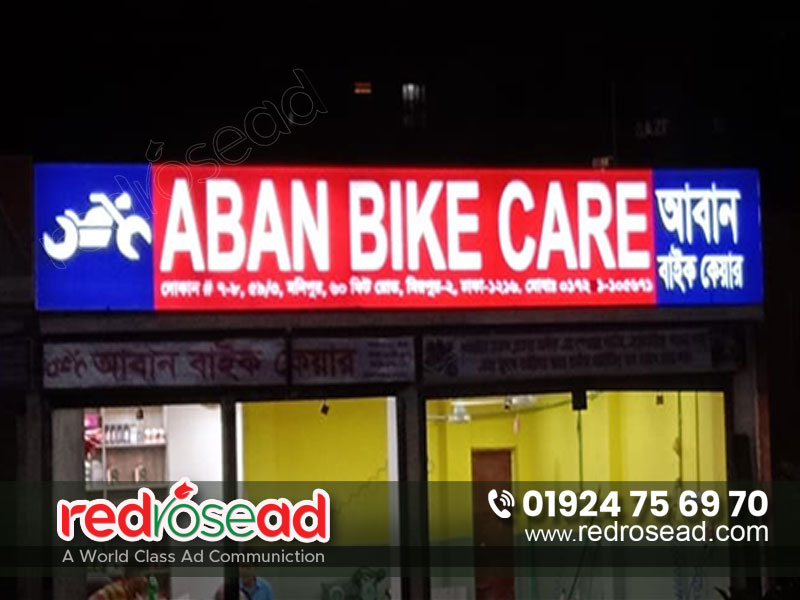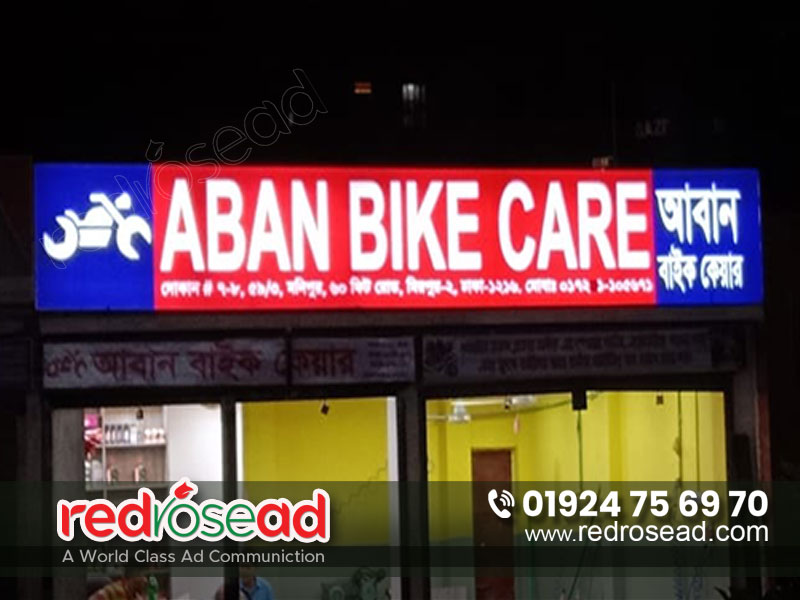 Step 3: Cutting and Fabrication
The selected aluminum profiles are cut and assembled according to the approved design. Precision and attention to detail are crucial during this stage to ensure a seamless final product.
Step 4: Installation of Lighting Components
LED lighting components are integrated into the aluminum frame. Strategically positioned to provide uniform illumination across the signboard.
Step 5: Finishing and Quality Check
After assembly and installation, the signboard undergoes a comprehensive quality check to ensure it meets the highest standards. Finishing touches, such as weather-resistant coatings. Applied to enhance longevity.
Advantages of Aluminum Profile Box Lighting Sign Boards
Increased Visibility: The illuminated nature of these signboards ensures they are noticed even from a distance. Attracting potential customers.
Brand Enhancement: The professional appearance of Aluminum Profile Box Lighting Sign Boards elevates the brand image and credibility of the advertised business.
Energy-Efficient: LED lighting used in these signboards consumes minimal energy, resulting in cost savings for the business.
Customizability: These signboards offer a wide range of design options, allowing businesses to showcase their unique identity creatively.
Applications of Aluminum Profile Box Lighting Sign Boards
Aluminum Profile Box Lighting Sign Boards find applications in various industries, including: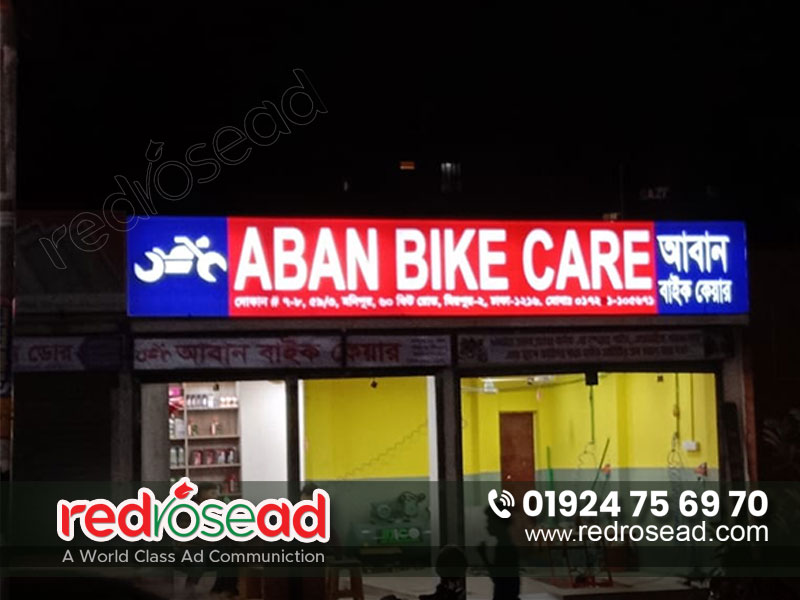 Retail Stores and Shops
Restaurants and Cafes
Hotels and Hospitality
Corporate Offices
Shopping Malls
Entertainment Venues
Signage Company for Your Business
Selecting the right signage company is crucial for obtaining the desired results. Consider the following factors:
Portfolio: Review the company's portfolio to gauge their design capabilities and past projects.
Client Testimonials: Check for client testimonials and reviews to understand the company's reputation and customer satisfaction levels.
Expertise: Ensure the company has expertise in creating the type of signage you require, such as Aluminum Profile Box Lighting Sign Boards.
Quality of Materials: Inquire about the materials used by the company to ensure they offer durable and high-quality products.
Timelines: Discuss project timelines to ensure they align with your business needs.
Conclusion
Aluminum Profile Box Lighting Sign Boards are an excellent investment for businesses seeking to enhance their visibility and brand presence. Red Rose AD Signage, with its commitment to innovation and customer satisfaction, stands out as the best signage company in Bangladesh. By choosing the right signage partner, businesses can effectively communicate their message and attract more customers.
FAQs
Q: How long does it take to create an Aluminum Profile Box Lighting Sign Board?A: The time taken to create an Aluminum Profile Box Lighting Sign Board depends on the complexity of the design and the scope of the project. However, thanks to Red Rose AD Signage's effective procedures. Projects are finished on schedule.
Q: Are Aluminum Profile Box Lighting Sign Boards expensive to maintain?A: No, Aluminum Profile Box Lighting Sign Boards are energy-efficient and have low maintenance requirements, making them cost-effective in the long run.
Q: Can I customize the design of the signboard according to my brand's theme?A: Absolutely! Red Rose AD Signage offers customizable design solutions, ensuring that the signboard aligns perfectly with your brand's theme and identity.
Q: Does Red Rose AD Signage offer installation services?A: Yes, Red Rose AD Signage provides professional
Call Now: +8801924-756970